Why Chair Massage?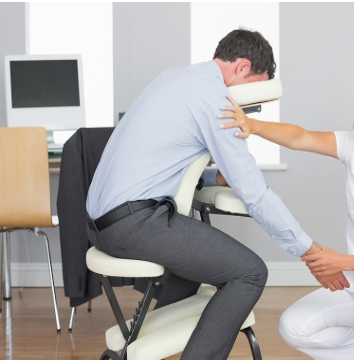 Decreased workplace stress
Improved morale
Increased productivity
Decreased stress-related absenteeism
Benefit to employee hiring and retention
Lowers anxiety
Increases circulation
Boosts immune system
Lowers blood pressure
Relieves muscle pains and headaches
Decreases stress
Generates more flexibility
Feels GREAT!!!
After a chair massage, your client or employee will feel energized, rejuvenated, valued and relaxed. It can work wonders for the body, mental state and sense of well-being.
Whether for your staff or client this is an invaluable asset for your business. This really is the perfect gift for hard working professionals.
Set your business, event, appreciation week, or celebration apart from the rest with something they will love and remember.
Chair Massage is specifically suited to relieve stress in high-tension areas and promote a renewed sense of energy, well-being & vitality.
Weekly, bi-weekly, monthly, or even annually visits will keep your employees healthy, happy and stress-free. Our corporate, on-site visits are also an effective way to ease tension and boost productivity during stressful periods or "crunch time."